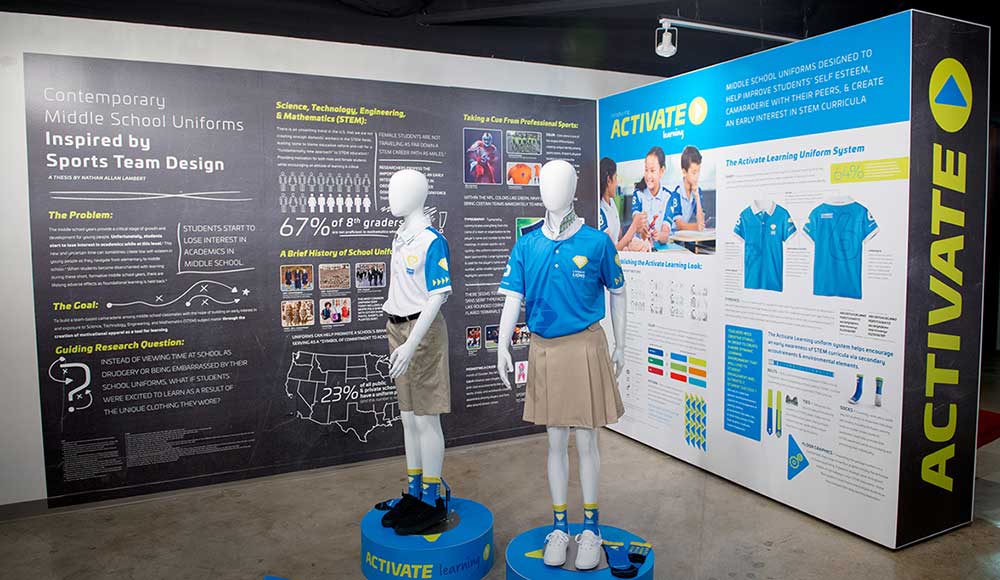 Large-Scale Custom Wall Cling Printing
Full Color has worked with several Master of Fine Art (MFA) design students in displaying their Thesis Exhibitions at Texas A&M University-Commerce. Using our Wall Cling material, these graduate students literally covered the walls with their exhibition designs. Full Color worked with them to print their designs splitting up the artwork in order to span across the wall. We also helped install the exhibits. Internally, we have used our Wall Cling material to create a custom trade show background, and stand alone display.
(View our custom installation gallery below.)
What is a Wall Cling?
Full Color's Wall Cling product is an extremely high quality repositionable print ideally suited for glass or smooth untextured walls. This product is actually a water resistant fabric with a 110° bright white color. Wall clings do not rip or wrinkle, and because of the special adhesive this product can be removed without any damage to the wall or surface.
This product is fantastic for covering bedroom walls with fun graphics or images, and it gives you the freedom to completely change an office atrium or conference room without having to permanently paint or hang something by punching nails into the wall.
View Our Wall Cling Products
Images used with permission from Renée Morales, Scott Ray, Isi Gonzalez, Brian Delaney, & Nathan Allan Lambert.
Create Your Custom Wall Cling
If you have an idea for a custom design or wall mural, give our Customer Service team a call today. We would love to brainstorm with you, and help your vision come to life. Also, depending on what time of day it currently is, we could start a Live Chat right now. (See Live Chat link on our Contact page)
Contact Customer Service About A Custom Project