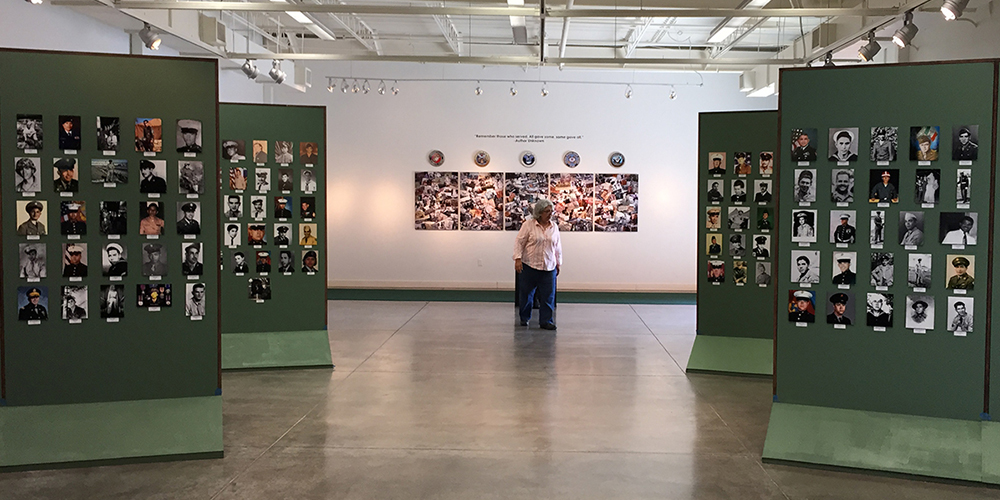 To commemorate the 70th anniversary of the end of World War II and the 40th anniversary to the end of the Vietnam War, the Dallas Mexican American Historical League (DMAHL), presents The Untold Story: A Tribute to Dallas's Mexican American Veterans and Families.
This exhibit pays tribute Mexican American veterans who've served in our armed forces. Through photographs donated by veterans and their family members, this multi-media exhibition displays over 1000 photographs of veterans who have served during the last 100 years.
Full Color is a proud sponsor of The Untold Story, by providing photographic printing services for the exhibit. Working with curator Viola Delgado, images were printed to create a gallery of portraits honoring the Mexican Americans we served in the armed forces, as well as metal prints with collages of over 500 candid images from the battlefields and life on duty, along with emblems for each branch of the armed forces.
These exhibits are comprised of 450 8" portraits printed on Kodak Endura Lustre paper and flush mounted on black styrene; 30x40 metal prints for the collage of candid images were mounted on ¾" float brackets, and 11" metal circle prints with the emblem of each military branch.
Also displayed, and of particular pride to all of us at Full Color, is a composite of 23 members of the Escobedo family who have served our country in the armed forces; with three members currently serving, and one enrolled at West Point. Liz Escobedo is a long-time Full Color employee who was involved in producing the images for this exhibit.
The Untold Story: A Tribute to Dallas's Mexican American Veterans and Families is on exhibit at the Latino Culture Center through October 17, 2015.