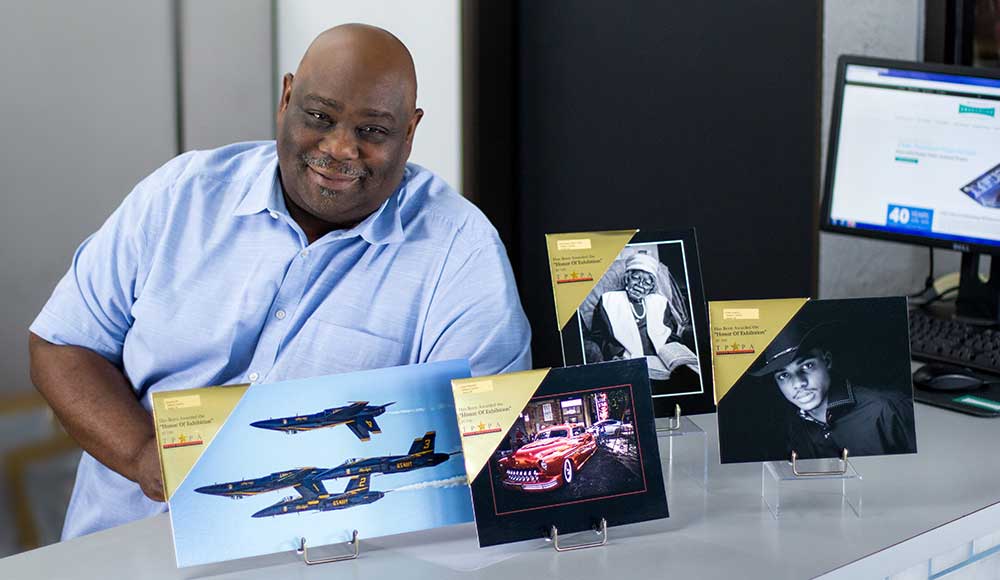 Full Color's Derrick Waiters captures 2 TPPA Merit scores and 2 above average scores during TPPA's 2018 Summerfest photography competition.
If you've visited Full Color, you may have met one of our fantastic customer service representatives Derrick Waiters. Derrick is a such great resource for photographers because he is a professional photographer himself. With a portfolio full of rich portraiture and high school senior imagery, Derrick also enjoys turning his lens towards the streets and skies capturing classic cars and jet aircrafts.
View Derrick's online portfolio to see more of his work.
Derrick is a member of the Texas Professional Photography Association (TPPA), as well as the Professional Photographers of America (PPA), and the Dallas Professional Photographers Association (DPPA). He enters photography competitions to stay at the top of his photography game. This summer Derrick was awarded 2 TPPA Merit scores for his pieces titled, "Urban Renewal," and, "God's Been Good To Me," and these images were included in TPPA's Summerfest Gallery Collection booklet. His pieces titled, "Showing Off," and, "Urban Cowboy," scored above average and were eligible for exhibition.
Derrick printed his images using Full Color's Photo Prints with Styrene Mounting. You can have total confidence in Full Color's photo printing because of our extensive in-house color calibration and accuracy across our products. If you are planning to enter a photo competition, be sure and calibrate your studio computer monitor with our lab. This will ensure your prints arrive with the exact color you see on your screen. View our Color Management Tutorials for a step by step walkthrough of this process.
When entering a TPPA competition, each image is given a score. The scoring is given by the competition judges, and can be reviewed during the judging process. There are various image categories you can enter your work, and tons of online resources to help you get started.
Learn more about TPPA Image Competitions
Next time you see Derrick, be sure and tell him, "congratulations," for his impressive accomplishments this Summer!